Live it up at a Brazilian Meats and Snacks + South American Wines Guided Dinner Experience
During a pleasant 4 hour dinner you'll slow eat over 30 of the best appetizers, veggies, recipes and meat cuts Brazil has to offer, at Churrascaria Palace (Rio`s highest rated churrascaria - steakhouse), all paired to the ideal south american sparkling, white and red wine.
We'll taste a little of everything: from seafood, to Amazonian fish, to a dozen or so Brazilian side dishes, then move to prime cuts of red meat, followed by game meat.
We end with a top notch Brazilian dessert called Romeu & Julieta, followed by cheeses paired to 8 types of honey (from different terroirs).
This is not just an excellent cost benefit at an extravagant dinner, but also shines a light on Brazilian food culture, wines and drinks.




Meats+Wines+Snacks+Sides+Dessert+Context!
Live it up during a 4-hour all-inclusive extravagant dinner
You'll spend less while being guided at every sip and bite.
Welcome to the ultimate Brazilian culinary experience, guided by a Brazilian food expert!

You will embark on a four-hour journey through Brazil's tastiest flavors in a private room at a top-rated churrascaria in Rio de Janeiro.

With your Brazilian food expert leading the way, you will start your culinary journey with several traditional Brazilian appetizers.

Still water, tropical fruit juices and caipirinhas, national cocktail of Brazil, will kick-off the night As you move on to Brazilian Amazonian fish and vegetables, you'll enjoy the freshest, locally sourced produce, paired with exotic and tasty amazon river fish showcasing the rich flavors and colors of Brazil.

Your food expert will provide insights into each dish's origin, uniqueness and preparation, so you can better appreciate the flavors and ingredients.

Brazilian sparkling wine and white wine will help synergize your palette.

Then, you'll dive into the Brazilian red meats, including Picanha, Cupim, and Alcatra, as well as grass fed bbq ribs, a delicacy not to be missed. Each dish will be carefully paired with up-and-coming Brazilian, Chilean and Argentinian wines, selected to complement the flavors of the food.
We love to enchant!
"Best extravagant dinner for a cheap price in Rio! Our dinner guide finessed an amazing sequence of dishes, meats and fish, that was the best way to enjoy almost 4 hours of fun, food and drinks. And it's all included! They match the food with an amazing South American wine selection and teach you how to make the national drink - caipirinhas! I'm already looking forward to bringing more friends with me on my next visit. Highly recommended activity in Rio."
"Wonderful experience, the food and wine were delicious, and the host Cristiano was friendly and welcoming and extremely knowledgeable about traditional Brazilian cuisine. It is also a lovely way to meet new people and enjoy the amazing food and wine of Brazil in good company! I would highly recommend it."
"This was a wonderful experience. I had also participated in the cooking in rio class and both were well organized. I got to try foods I would have otherwise not even known about had I not been part of this guided dinner. I highly recommend this if you are interested in learning about Brazilian cuisine and want a complete experience."
Travel pros recommends us!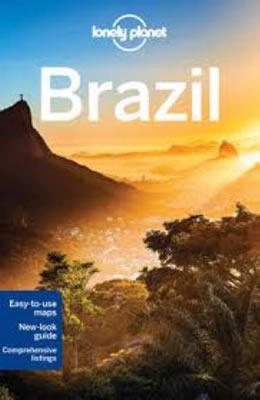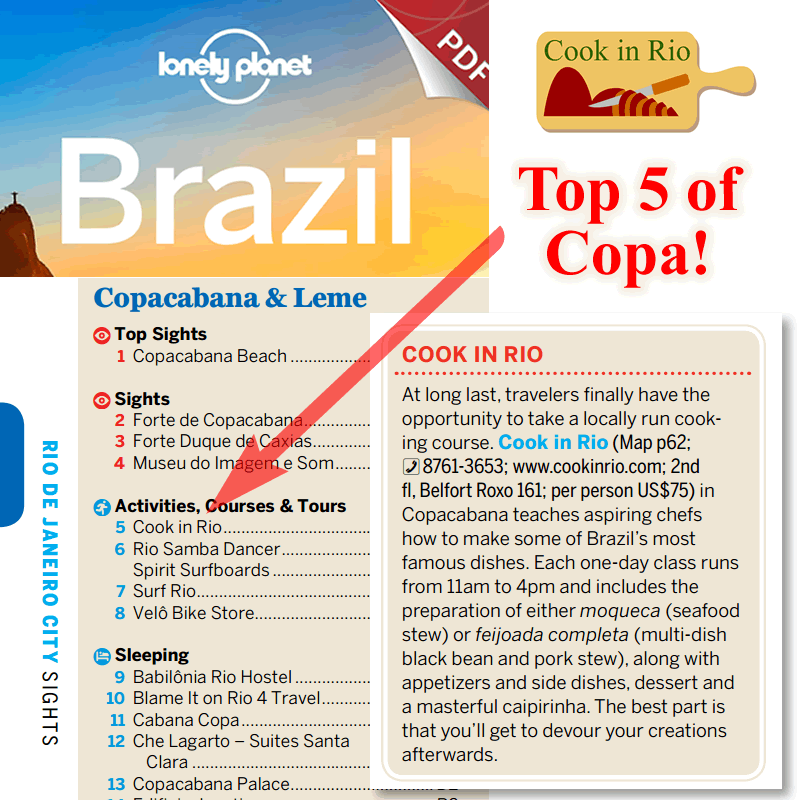 2017 Edition of Lonely Planet
Food is not just a means of sustenance; it is a celebration of life, a form of art, and an expression of love.
- Maya Angelou
Book your dinner here
Eating food together is a way of expressing the deepest human values, such as love, care, and respect for others.
- David Katz
Eating out is common.
Cooking in Rio is a memory.