Learn to cook Brazilian recipes, then eat!
Our Brazilian Cooking At Home DVD: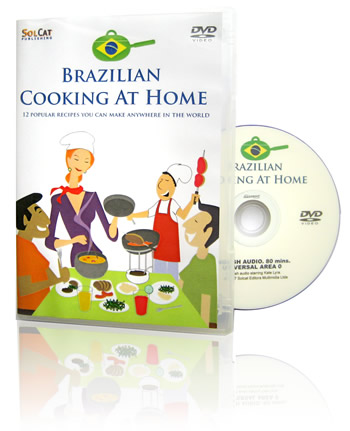 Want to learn but don´t have the time in Rio?
Get our Brazilian Cooking at Home DVD or downloadable videos!
Ever wanted to learn the most popular Brazilian recipes? Or to entertain your friends with exotic yet delicious dishes and drinks from Brazil? Now you can learn the easiest to make Brazilian culinary recipes in under 80 minutes.
Aipim Frito

(Fried Manioc sticks)

Bobó de Camarão

(Shrimp in Manioc Stew)

Caldinho de Feijão

(Black bean soup)

Picanha Brasileira

(Grilled Top Sirloin)

Caipirinha

(Cachaça rum w/ limes drink)

Creme de Papaya

(Papaya Cream Dessert)

Feijoada

(Meat and Bean Stew)

Moqueca de Peixe

(Fish in Coconut Stew)

Pé de Moleque

(Peanut Brittle)

Pinga Com Mel

(Cachaça rum w/ honey)

Brigadeiro

(Milk Fudge Balls)
©2009 Cook in Rio - All rights reserved