Half-day Brazilian Cooking Classes in Copacabana
Learn to make Brazilian delicacies, then eat and drink!
Learn a mix of Brazil's favorite dishes in a hands-on, hilarious and semi-private cooking class.
Discover exotic ingredients, techniques and flavors you use back at home.
+ 100% Hands on.
+ English spoken.
+ Located in Copacabana.
+ Food and drinks included.
+ Bring a camera and friends!
+ Tasty recipes with ingredients you can find world-wide!
Closed on Sundays.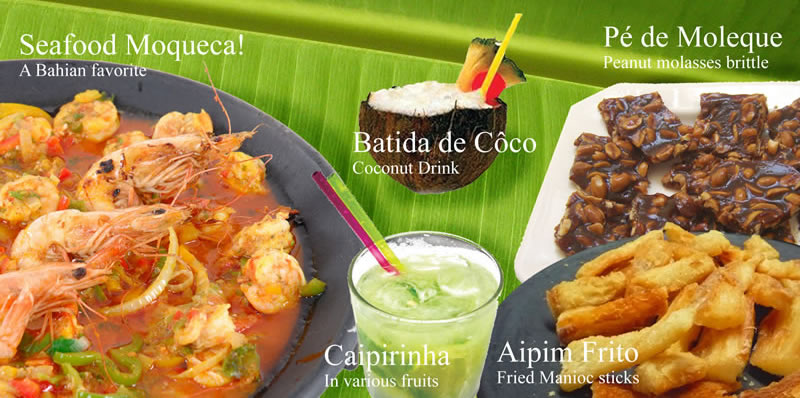 Book a cooking class during your Rio de Janeiro trip
"Simone, the cooking instructor, is the quintessential "fun-loving" Brazilian. This spirit is the secret ingredient of her classes. We burst our sides laughing for almost 4 hours!"
– Simon Pell 
Price per person:
US$120 in a private class (minimum 2 in your party)
US$75 in an open class (average class size = 6)
To Book a class please deposit 25% using the button below:
Moqueca
What you`ll learn in the Moqueca class:
– Fish moqueca
– Toasted Cassava Banana Forafa
– Coconut Batida drink
– Cassava sticks
– Brazilian garlic rice
– Lime Caipirinhas
– A Surprise dessert
Days and Hours:
Monday 4pm
Wednesday 4pm
Friday 4pm
Feijoada
What you`ll learn in the Feijoada class:
– Pork and beans feijoada stew
– Toasted Cassava Banana Forafa
– Garlic fried collard greens
– Coconut Batida drink
– Cassava sticks
– Lime Caipirinhas
– A Surprise dessert
Days and Hours:
Tuesday 4pm
Thursday 4pm
Saturday 11am
 * Closed on Sundays.
Calendar
Click below to see our calendar of already scheduled classes
Rua Belfort Roxo 161, 2nd floor, Copacabana (link to Google Maps) 
For question call: Whatsapp +55 (21) 98894-9857 or +55 (21) 98761-3653
Email: info [at] cookinrio.com
Our Vivacious Brazilian Chef
Chef Simone is crazy. All chefs are. Anyone with a centered mind wouldn't spend all day in a hot kitchen dealing with demanding clients, moody waiters and tight deadlines.
 What makes Simone different is that she is side-bustingly funny! I have seen students burst caipirinha thru their nostrils before cracking up to one of her jokes. People smacking their legs during a laugh. What`s more, she is the quintessential Carioca. Fun, smart, savy, friendly and slick (malandra)!
She is also a master at group-dynamics, where she can make strangers into friends within an hour.
Her cooking class should be scheduled for your first day in Rio.
What you will learn about Rio culture, about Cariocas and about exploring Rio will illuminate the rest of your trip with a brighter light, maybe even X-ray vision. You`ll go from a visiting tourist to a sociologist, and that`s way more fun.
So book a class with us for your first day in Rio. We`ve never been asked for a refund due to even an "average" experience in her class, so we are extremely happy to offer refunds. We've had people (whom we had to reschedule due to last minute "life" problems in Simone`s schedule) ask for a refund, which of course we honor, as it is only fair.
Go ahead, you won`t regret it.
– Cristiano Nogueira, co-founder of Cook in Rio
P.S. You`ll learn lots, plus your first meal will be amazing, not just because of the Brazilian flavors, but because you made it.
Participate in a fun class! Eat and drink well while learning about Brazil!

"WOW! So worth it!" 
– Vicky Kox
"Thanks for the class, we really enjoyed it."
– Tom Scott
"This cooking class was definitely one of the highlights of my trip to Rio..
and I'd highly recommend it to anyone who goes to visit Rio."
– Lyn Fernandes
"Olá novamente e muito obrigado pela maravilhosa experiência de culinária! Foi um dos destaques da nossa viagem. Jolene e eu adoraríamos cozinhar alguns desses pratos em casa para que possamos trazer um sabor do Brasil para casa de nossos amigos . Planejamos usar seus conselhos para tornar a nossa cozinha uma parte mais central da nossa família. Muito obrigado! "
– Michael Yehl
Veja todas as nossas fotos no nosso tabuleiro Pinterest